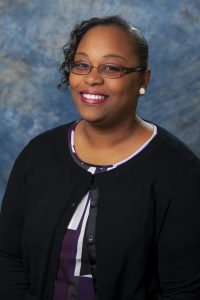 May's Administrative and Professional Collaborative (APC) Spotlight shines on Ms. Terry Hollingshead, the 2017-2018 APC Exceptional Service and Initiative Award winner.
In her role as Senior Associate Director of Student Recruitment, Terry provides collaborative leadership in the operation and administration of community and school-based recruiting activities that increase both the quantity and quality of prospect and applicant pools to FSCJ. In addition to community-facing recruitment responsibilities, Terry is a self-proclaimed "data geek" and happily serves as principal researcher and project manager for departmental and institutional strategic initiatives related to student recruitment.
Terry's affection for data and data-driven decision-making is observable in her work to develop and expand functionality of the Recruitment CRM (Connect) as well as through her involvement in Collegewide committees for Strategic Planning, Data Governance, Outcomes Assessment, and Strategic Enrollment Management.
Terry holds a Bachelor of Science in Education and Social Policy from Northwestern University and a Master of Business Administration from the University of Phoenix. She plans to complete the Executive Certificate in Data Analytics from Cornell University during the summer of 2018 and further enhance her "data geek" designation.
In her spare time, Terry is also a "movie geek" who enjoys watching movies and has an excellent recall of movie quotes. If you notice her smiling at odd moments during a meeting it is often because she has made a mental association between the topic under discussion and a line in a movie. In her estimation, the single most quotable movies of all time are A Few Good Men, High Fidelity, and How to Lose A Guy in 10 Days.
In July, Terry will celebrate three years as a member of the FSCJ team. She is hoping the next three years will provide an opportunity to use the quote "Wakanda Forever" in FSCJ related conversation…wait…I think she just did!