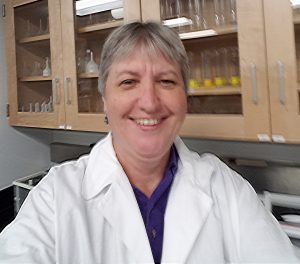 December's Administrative and Professional Collaborative (APC) Spotlight shines on Julie Sutton, the new Department Chair for Physical Science. She has worked at FSCJ since 2010 as a laboratory manager and academic coordinator.
Originally from Australia, Julie has worked in the U.S. since 2002. She has combined her love of science and management throughout her professional career, initially in the field of forensic science where she led the Forensic Biology Unit at the Australian Federal Police. After moving to the U.S., she was a trainer of forensic analysts throughout the nation and an auditor of forensic science laboratories specializing in DNA analysis, management systems and staff training.
Julie earned a Doctor of Philosophy in Biochemistry from the University of Sydney and a Master's in Business Administration from the University of Canberra.
She was awarded her permanent residency under the category of extraordinary in the Arts and Sciences and is now a proud citizen of the U.S.A.