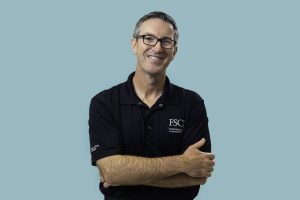 Associate Director of Student Success Kerry Roth has served the students of Florida State College at Jacksonville in various roles within the area of Student Life & Leadership since 2002. In addition, he has facilitated low ropes and experiential learning opportunities at the FSCJ Outdoor Education Center since 2006. Kerry has served as the state advisor of the Florida College System Student Government Association on three occasions and once as the chair of FSCJ's Association of Florida Colleges Chapter. In 2021, he was selected to serve as the North Campus Dean for three years and during the 2022-23 academic year, will serve as the chair of the FSCJ Administrative Professional Collaborative.
Kerry currently works with a team of twelve amazing individuals to provide opportunities for students to become involved in extracurricular programming at FSCJ. These opportunities include, but are not limited to, Ally Programming, Campus Student Programming Boards, FSCJ H.O.P.E. Food Pantry, History & Heritage Celebrations, Leadership Trainings, Student Ambassadors, Student Diversity Programming, Student Government Association, Student Organizations and Volunteerism.
Kerry earned a Master of Education in Counselor Education from the University of North Florida, a Bachelor of Science in Communication from Florida State University, an Associate in Science in Graphic Arts Technology from Florida Community College at Jacksonville, and an Associate in Arts from Tallahassee Community College.
Kerry is a supporter of Tottenham Hotspur Football Club, enjoys traveling and looks forward to superhero movie release dates. He strongly believes in the mission of FSCJ and is very passionate about helping to foster positive life-changing opportunities for our diverse student population.