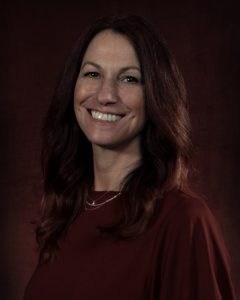 Kristin Kristen serves as the Program Manager at the Center for eLearning (CeL) department, working in tandem with FSCJ Online's operations team. Before joining FSCJ in 2013, Kristin worked as a coordinating producer for special film projects and a multimedia producer for PGATOUR.com for over ten years. She later worked as a program manager in the Continuing Education and Training and Development departments at the University of North Florida for three years.
In her current role, Kris provides Collegewide support for any departments that want to develop and offer fully-online programs and courses to FSCJ's current and prospective students. She engages with the deans, instructional program managers and faculty members in creating a portfolio and program plan for online course developments that meet all stakeholders' requirements and needs. In addition, she provides ongoing operational support to the CeL's development team (instructional designers and multimedia designers) to make sure course development meets the expected project deadlines and providing project status updates to appropriate stakeholders.
To help promote the College's mission and values and support ongoing Collegewide activities and events, Kris serves on the Wellness Champion Club and is part of the Deerwood Campus Incident Management team.
Kris holds a bachelor's degree in Broadcasting with a minor in Political Science from Arizona State University. She is a Disciplined Agile Scrum Master and is on track to receive her Senior Scrum Master certificate this year. She also has a Project Management Professional (PMP) Certificate and her Lean Six Sigma Green Belt.
She loves spending time with her three adult children, traveling to new places and going back home to California to visit family. Her passions include anything with water, boating, skiing, the beach, live music and reading.