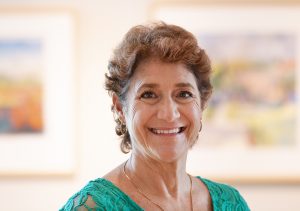 The Administrative & Professional Collaborative (APC) is the representative voice for the Administrative & Professional employees of FSCJ. In an effort to build cohesiveness, awareness and collegiality, each month we put a "spotlight" on one of our members.
July's Administrative and Professional Collaborative (APC) Spotlight shines on Beth Harvey, director of the Nathan H. Wilson Center for the Arts. Beth joined the College in 1995 as an administrative assistant for the new Wilson Center, which was still under construction at the time. Before coming to FSCJ, she worked at Theatre Jacksonville and often collaborated with the College in an academic-community theatre partnership. She became the Operations Manager in 1999 and was later named Director of the Wilson Center in 2005. Beth was also a founding member of the Administrative & Professional Collaborative, helping develop the by-laws and later serving as secretary.
Through her tenure, Beth has had the pleasure of hosting many professional artists in theatre, music and dance through the relationship with FSCJ Artist Series. She contracts professional artists through an initiative from the College, to work with the students to enhance their artistic talents. Recently, the program has expanded to include academic experts in other fields like math, history and human rights education.
With support from the FSCJ Artist Series, Beth founded the High School Summer Musical Theatre Experience (SMTE), a summer program for high school student actors, in 2005. SMTE is now celebrating its 13th summer with "Young Frankenstein." Over the years, the program has called on the entertainment and technology program under John Pettegrew to build, paint, light and provide sound for the program of high school performers. The summer ends with a fully developed production that draws record crowds.
She loves what she does and continues to look for new ways to stimulate whole learning for the students. She believes you must go big or go home, and if you ever end up inside the office of the Wilson Center, you get a sense of that. The show doesn't stop.
Beth has a BA in Spanish with a minor in Technical Theatre from Wesleyan College. She earned her MA in Organizational Management many years later.
Beth loves to travel, mostly by cruise ship, and has plans to get back to Alaska in the spring.