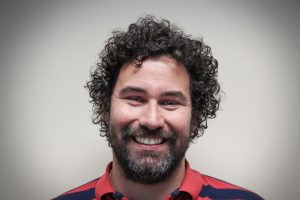 This month's spotlight shines on Library and Learning Commons (LLC) Manager Nicholas Bodnar. Nicholas has worked at Florida State College at Jacksonville since 2010. He began his career with the College as an Academic Tutor for the Downtown Library and LLC and served as an adjunct faculty member teaching history. In 2017, Nicholas became LLC Manager of the Downtown Campus, where he is now responsible for overseeing the day-to-day activities of the LLC.
Prior to becoming LLC Manager, Nicholas also served as a history faculty member at Edward Waters College for six years, developing a love for Northeast Florida history and the local history of many of Jacksonville's communities.
He is currently serving as the Professional Development Officer for the Florida College Learning Center Association (FCLCA). In addition, this past year he has presented at various conferences throughout the state on topics ranging from support services for non-native English speakers to using escape rooms within libraries to promote student support services.
Nicholas holds a bachelor's degree in English and a master's degree in history from the University of North Florida. He is currently working on his doctorate degree in history at the University of Florida.