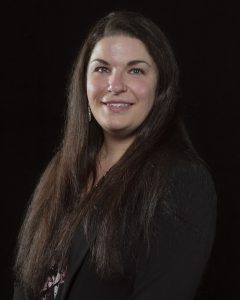 Associate Director of Student Recruitment Jacqueline Kloin oversees the outreach efforts of the Recruitment team, including community, school-based, business and industry-based recruiting activities.  She helps implement College policies and practices that effectively enhance the student experience and student achievement, like the new application that launched this past fall. Jacqueline has implemented new ways of recruitment in the virtual world from daily virtual information sessions to large-scale Virtual Open Houses. She is always looking for new and innovative ways to reach prospective students and has collaborated with departments Collegewide to support this mission.
Jacqueline holds a bachelor's degree in psychology from the University of Pittsburgh and dual master's and specialist's degrees from the University of Florida in education and counseling. She has worked in higher education for the past 10 years, including over five years serving at FSCJ. She joined FSCJ back in 2015 as a recruiter where she built relationships with her lead schools and several non-profits in the community from the ground up. Jacqueline has been in her current role for just over one year.
In her tenure at FSCJ, Jacqueline has taken advantage of a wide variety of professional development classes offered here. She has completed the Managing at FSCJ Certificate, the Leadership Academy and the Six Sigma Yellow Belt. She is also currently completing the Bridges Student Success Certificate. Jacqueline enjoys serving on numerous committees focused on the holistic student experience, and takes part in the Visionary Impact Plan.
In her downtime, Jacqueline enjoys spending time with friends and family. She has also been known to sing karaoke and enjoys traveling whenever possible.