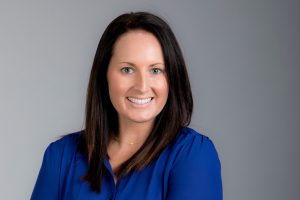 As Director of Marketing, Amy Lavner oversees the strategic branding, marketing and advertising for the College.
Amy has a bachelor's degree in Communication from the University of Georgia (Go Dawgs!). She has worked in higher education for more than a decade, starting at the University of Central Florida and spending the last seven years at Seminole State College.
A new member of the FSCJ family, Amy started at the College in May 2021. She is so excited to join such a talented, hard-working team and can't wait for the College and community to see what they can produce.
In her personal life, she enjoys spending time with her husband, Ryan; 2-year-old son, Cam; and golden retriever, Stella. She loves cheering on the Dawgs, going to the beach and setting up their new house in Ponte Vedra. Though she loves traveling, the family trip-planning is temporarily on hold – she's too busy chasing around a busy toddler, with a baby girl due in September.