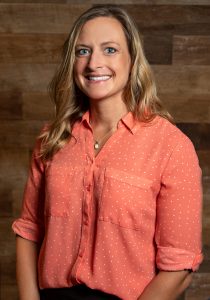 Kasey Anderson is the new Program Manager of Culinary & Hospitality Management. Kasey first joined the FSCJ team as an adjunct culinary Instructor, and after two semesters, she became a full time instructor. She then moved into her current position in August of 2020. She is dedicated to the success of the students, as well as the team of professors. Kasey strives to continue to lead the program in a direction to helps students to be well prepared when they venture into the Culinary and Hospitality industry.
With 18 years of food service experience, Kasey has worked for a private caterer and country clubs, as well as with restaurant chains. At The Capital Grille, Kasey worked her way up from a prep cook to an executive chef partner. She traveled the country opening restaurants and also served on the company's research and development team. She then went on to open Bazille in Nordstrom at the St. Johns Town Center as their executive chef. Once again, she traveled, but this time internationally to help open restaurants with Nordstrom. Again, Kasey was on the research and development team with this company as well. After her journey with Nordstrom, Kasey got into the food sales and became an outside sales rep for Halperns' Steak and Gary's Seafood.
Kasey attended Johnson & Wales University in Providence, Rhode Island, and graduated with her A.S. in Culinary. She then pursued her B.A. in Food Service Management. She is currently pursuing her Masters in Hospitality at Florida International University.
In Kasey's free time, she enjoys spending it with her three children, as well as doing CrossFit competitions and outdoor activities.