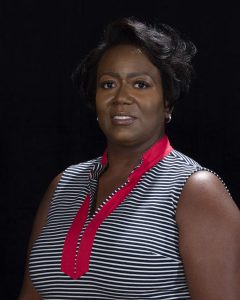 Associate Director of Student Success for Career Development Erica Mack oversees the career development staff and assists students with preparation for entry into the workforce. She also serves as an adjunct faculty member for the Adult Education program.
Erica has worked in the field of education for 17 years in the northeast Florida region. She started as a student ambassador at Jacksonville University, which lead to her first job as an admissions counselor  upon graduation. She served in a variety of roles related to enrollment management at Jacksonville University and the University of North Florida, ascending to leadership positions at each institution. In addition, she worked as a school counselor at Darnell-Cookman Middle / High School for several years.
Erica is a native of Jacksonville and a graduate of Douglas Anderson School of the Arts. She completed her B.A. in Communications from Jacksonville University and M.Ed. in Counselor Education from the University of North Florida. In August 2021, she completed her Ed.D. in Higher Education Administration from the University of Florida. Her dissertation topic was Institutional Leaders' Perspectives on the Unintended Consequences of Performance-Based Funding.
Outside of the academic and professional credentials, Erica is a runner. She has completed two half-marathons and seven 15K races. One of her favorite races is the Gate River Run.