In September we celebrate Banned Books Week, which runs this year from September 27th-October 3rd. Throughout the month we offer you the chance to go on a date with a banned book by picking one of the wrapped titles off our Banned Books display. Only the complaint lodged made against the book when it was banned or challenged appears on the wrapping, so you can either be surprised by the title at check-out or peek and see just how random and strange some of the objections made to classic books have been.
Stop by the front desk to have your photo taken with our READstricted mask and your favorite banned book and we'll include you in our home-made Banned Books Week Poster!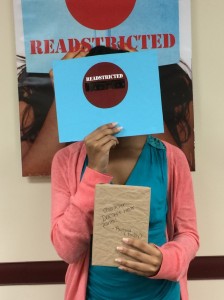 As we look toward October, we'll be prepping for Horroween, and then after that it will be time for the return of Dinovember. That's all in the future, though. So for now, remember: don't let other people make decisions about what you can read, and we'll see you in the stacks!