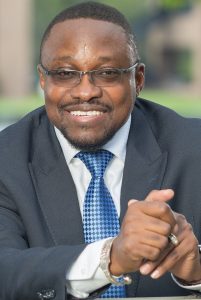 As Associate Director of Student Conduct, Dr. James Artley provides oversight and is responsible for the administration of student conduct, ensuring that the process is fair, impartial, non-adversarial, restorative and conducted in an educational manner. He supports Collegewide collaboration to increase civility, awareness and respect, while also promoting resolution of student conduct incidents from a developmental perspective, which fosters personal growth, intellectual development and civic responsibilities. In addition, he also serves as the College's representative on the Duval County Sexual Assault Interagency Council.
James received his master's and doctorate degrees in Business Administration from Nova Southeastern University, and a Bachelor of Science in Health from the University of North Florida. He has over twenty years of experience in higher education, having served in various roles and most recently as Associate Dean of Student Affairs at Florida Coastal School of Law before joining FSCJ.
Prior to making the transition to higher education, James worked at Blue Cross Blue Shield of Florida for thirteen years in Claims Operations and Marketing Intelligence, where he served as Service Manager and Market Intelligence Leader.
With his diverse background in dealing with students and a comprehensive understanding of the student experience from enrollment to graduation, James has a record of accomplishment of educating, enlightening and empowering students, a philosophy that guides his encounter with each and every student and colleague. He co-authored the chapter, "Mentoring Diverse Generations" in the book Mentoring Diverse Professionals, which was written by one of his mentors, Dr. Bahaudin Mujtaba.
James lives in St. Augustine with his wife Gloria. In his spare time, he loves listening to various genres of music, reading, cooking and traveling.
Excited to be part of the FSCJ community, James is looking forward to collaborating and building relationships with new colleagues and contributing to the overall success of the institution.