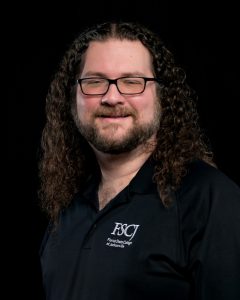 As Learning Management System Administrator, Thomas Lewis provides service for all things Canvas. You will often find Thomas interfacing with faculty to support their needs, providing training for upcoming Canvas features or analyzing data to provide system reports for the College.
Thomas holds a bachelor's degree in Music Technology from the University of North Florida and an associate in science degree in Networking Services Technology from Santa Fe College. Thomas's journey in Education Technology began as a UNF student worker at the Center for Instruction and Research Technology. Working there for almost three years, he was supporting instructors with Canvas-related questions, captioning educational videos and recommending equipment for instructors to accomplish their in-class needs. During this time, he also had the opportunity to intern with Turning Technologies and helping facilitate their clicker software with UNF faculty.
After graduating from UNF, Thomas decided to continue his career here at FSCJ as the Education Technology Specialist and has had the opportunity to work and become familiar with the FSCJ family for three wonderful years. He is incredibly proud to call FSCJ home and cannot wait to serve many more years with the College.
In his spare time, Thomas enjoys spending time with his family, watching competitive e-sports and musical theatre. He hopes to begin working on his master's degree next year in Curriculum and Assessment with a focus on Education Technology, but for the time being, is enjoying spending  time with his newborn son, Rowan.