This month we are celebrating Horrorween! Check out our Facebook for all of our Halloween related posts, and our book display on all things horror!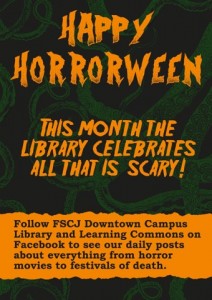 If you don't already know, the week of October 17th to the 21st the week Downtown Campus is issuing the new FSCJ student ID badges and parking decals.  We are offering these services from 10 A.M. – 7 P.M. Monday through Thursday and from 10 A.M. – 2 P.M. on Friday, located in the Learning Commons building A, room 3040.
Keep an eye out next month for International Education Week 2016, starting November 14, until the 18th. Until then, see you in the stacks!