This month the library is celebrating the return of Dinovember!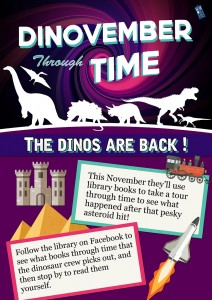 The dinosaurs are back this year and they are using history books and historical novels in the Library to travel through time and catch up on some of the things they missed post-asteroid. Follow their reading journey here and then stop by the Library to pick up a book and do a little time traveling of your own. Check out our facebook page to see what these guys and gals are up to all month long.
Until next month, we'll see you in the stacks!