April is the coolest month, as it's when we get to celebrate National Poetry Month. This year not only will we be featuring daily selections of spoken word and poetry on our Facebook and Instagram accounts, but we're also partnering with Student Engagement and faculty members Sarah Clark Stuart, Monica Dimauro, Russell Flint, and Audrey Antee to put on a slate of events all across the College.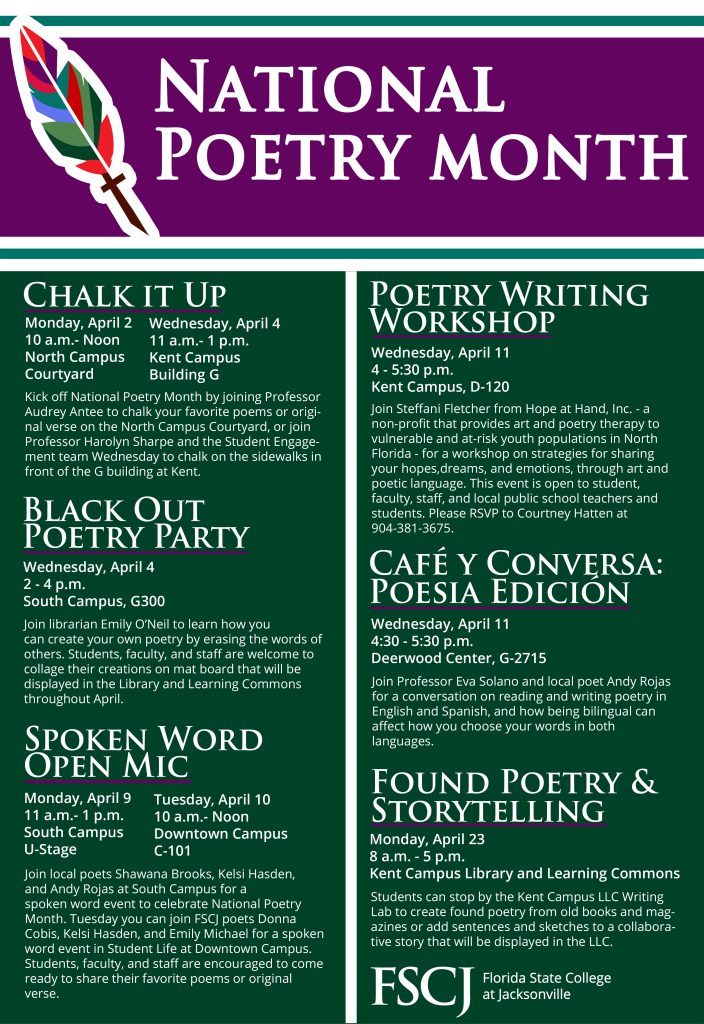 Most of the fun happens between April 9 and 11, starting with spoken word events at South (Monday, 4/9 from 11 a.m.-1 p.m. on the U-Stage) and Downtown (Tuesday, 4/10 from 10 a.m. – noon in C101).
Then on Wednesday, April 11 we have an across-town double feature. First at Kent, there's a poetry writing workshop featuring Steffani Fletcher from Hope at Hand (4 – 5:30 p.m., D120). Registration is required for this event, so we ask that you RSVP to Courtney Hatten at 904-381-3675. Meanwhile at Deerwood we'll be hosting a special Poesia Edicion of our weekly Cafe y Conversa event, featuring a poetry reading from local poet Andy Rojas and a discussion of how being bilingual affects your writing (4:30 – 5:30 p.m., G2715).
Finally, to finish out the celebrations we have an all day event at Kent on Monday, April 23, for patrons to stop by the Writing Lab to create found poetry from old books and magazines or participate in collaborative storytelling by adding sentences or sketched to a collected work that will be hung in the LLC.
In non-poetry news, we're also taking this month to celebrate our many fabulous faculty authors. Join us Thursday, April 12 from 4:30 – 6:30 p.m. in Kent's D120 for a reception that's light on the refreshments but heavy on praise.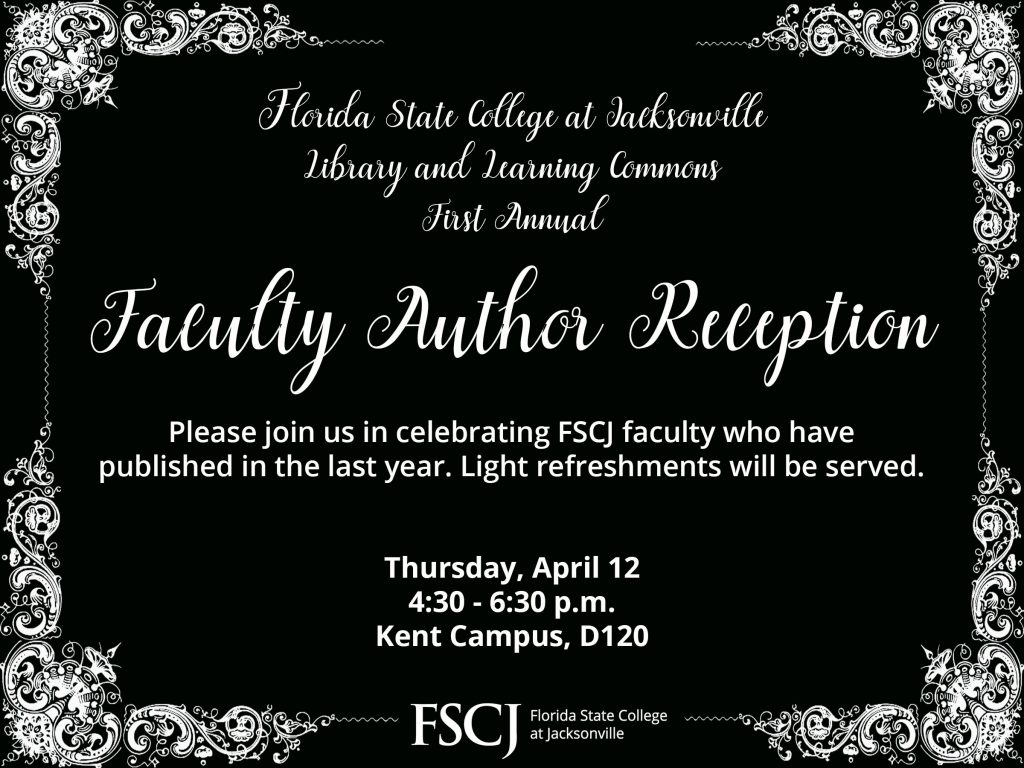 In May we'll be slowing things down a bit for the start of summer, but keep an eye on our Facebook page just in case we plan any late-breaking shenanigans. Until then, we'll see you in the stacks!