We've been saving up terrible Pi/Pie puns for months, and are very excited that March and our Pi Day events are finally here so that we can serve them up.
First, we're very excited to present Pi Over Pie: The Secret History of Women in Math at the Downtown Campus. Professor Anna Byrd will explore some of the hidden female figures in STEM, and discuss the importance of representation. Student Engagement will be on hand at the end of the event to share pies with the attendees. Head upstairs afterward to the Learning Commons on the third floor for more free pie and a hula hoop measuring event (which runs from 9 a.m. to 6 p.m. that day).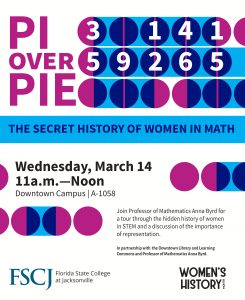 Meanwhile, North Campus will be hosting a Pi-themed Escape Room, with prizes for students who successfully complete it, along with some other games and pie-snacks provided by Student Engagement from 10 a.m. – 1 p.m. South Campus will have a Pi memorization contest, a chance to compose Pi-ku poetry, and still more free pie from Student Engagement from 12 p.m. – 1:30 p.m. And finally, Deerwood Center in conjunction with Professor Paula Risko will be setting up Bouffon's Needle Experiement (which you can read about here) for students to use to try to calculate Pi from 8 a.m. – 6 p.m.
It's tempting to fill up on Pi, but be sure to save some room in your schedule that week for the Author Series events featuring The World's Strongest Librarian Josh Hanagarne on March 13 at Kent Campus (11 a.m.) and South Campus (7 p.m.). You can find the event details here. Also, if your appetite runs more toward poetry, you'll be excited to know we have lots of great events scheduled for National Poetry Month in April, but until then, we'll see you in the stacks!