In support of Intercultural Awareness Month at the College this month, the LLC is taking you around the world.
First, if you're not already following us on social media (Facebook, Instagram, or Twitter) this month is a good time to start, as we'll be celebrating our fourth annual Dinovember all month long. The LLC's dinosaurs will use titles from the collection to cross the globe and highlight international authors, usually while making puns and wearing costumes.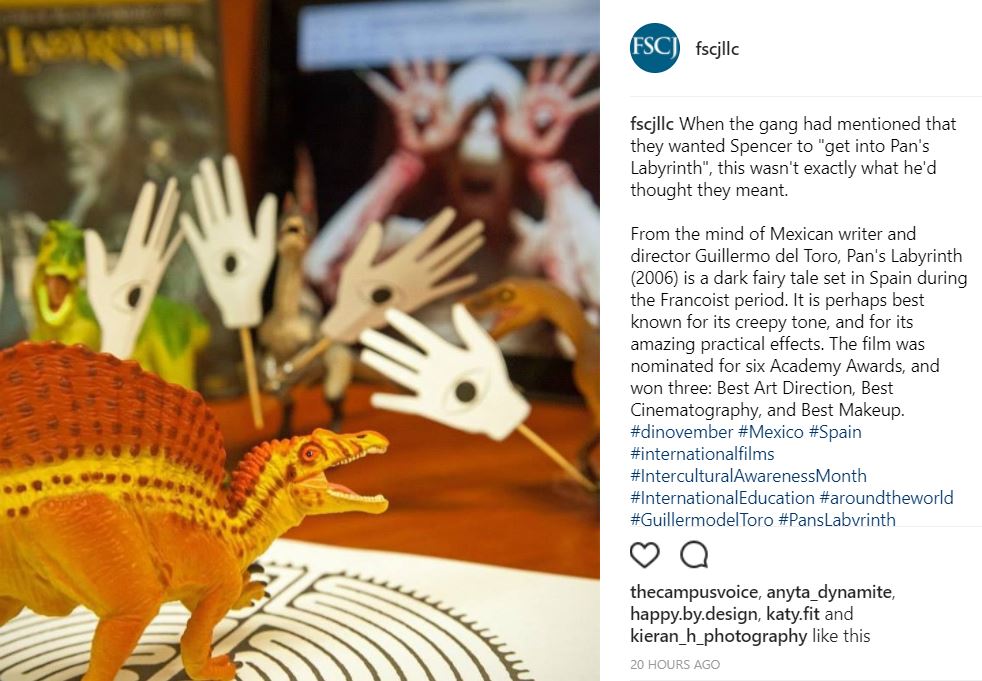 If you're a film fan, Nassau Center has a treat for you this month: World of Horrors, an international film series that explores horror films from around the world. The series is hosted by Professors Ranjan Chhibber (Humanities/Film Studies) and Shep Shepard (Communications/Film Studies), and features three films. On November 7, Dr. Chhibber will host a showing of the Japanese film Vampire Girl vs. Frankenstein Girl, with a prefatory talk on the dark side of Asian film. On November 13, Dr. Chhibber and Dr. Shepard will host a showing of the Canadian film Videodrome, directed by David Cronenberg. Dr. Chhibber will discuss the importance of Canadian mise-en-scene in Cronenberg's film; Dr. Shepard will address how the film imagines the reciprocal relation between culture and identity. For our last film on November 27, Dr. Shepard will host a showing of the recent American hit It Follows and discuss the film as an allegory for depression. All showings will take place at 6 p.m. in the David Yulee Room (A114) of FSCJ's Nassau Center. Please note: Viewer discretion is advised. These films are for mature audiences and may contain scenes that some viewers may find disturbing.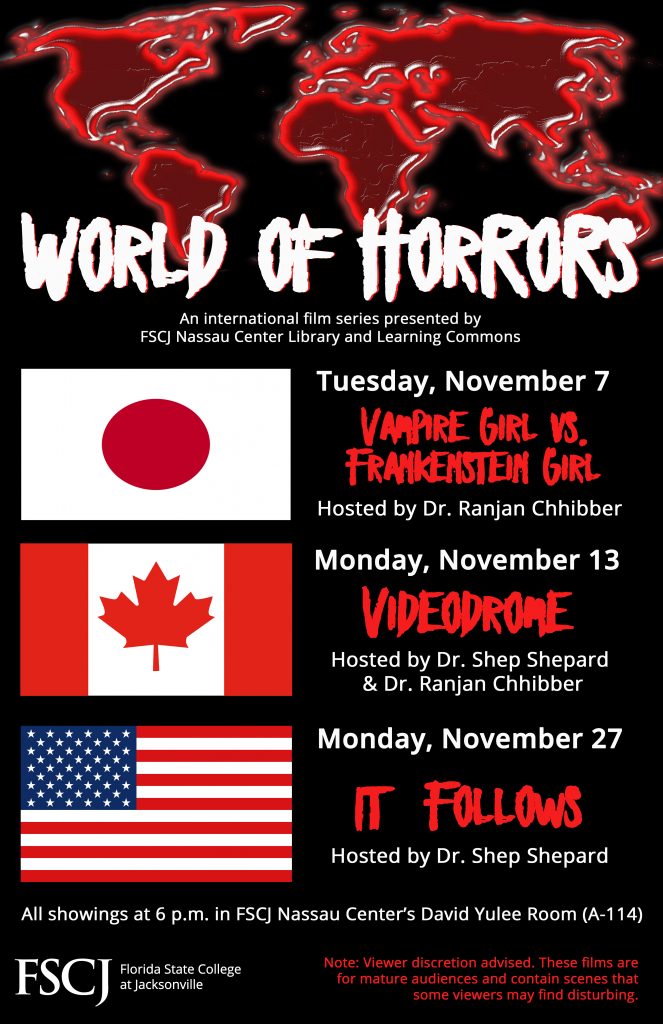 If you're an anglophile, a Bard groupie, or just a fan of iambic pentameter, we've also got you covered. To kick off the South Campus LLC's presentation of Shakespeare and the Four Humors, an exhibition developed and produced by the National Library of Medicine, National Institutes of Health and the Folger Shakespeare Library, Dr. Laura Jeffries will discuss instances in Shakespeare's work where he made use of the theory to help sketch characters. This opening event will take place Tuesday, 11/14 from 1:30-2:30 p.m in G306. The exhibit will run in the South Campus LLC (G300) from 11/13-12/2. Additionally, faculty may schedule class sessions in the LLC's Shakespearean Escape Room during the run of the exhibit on Monday-Thursday from 12-4 p.m. or Friday from 9-1 p.m. by calling 646-2174.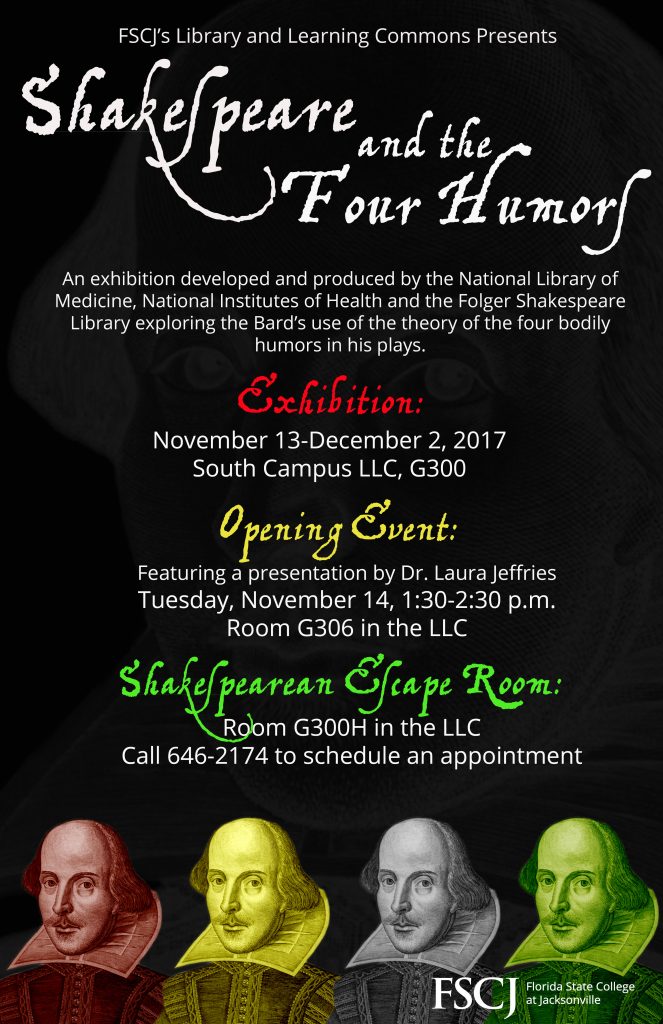 Intercultural Awareness Month will close out with a bang at Deerwood Center, with an extra-special version of Tutor Tuesday featuring Tea & Tongue Twisters (all day) and a resume workshop (12:15-1:00 p.m.) in the Foreign Language Lab on November 28th. Can't make it Tuesday? Don't worry – you can still join us and Professors Arias Suarez and  Eva Solano on Thursday, November 30th from 11 a.m.- 1 p.m. for Chitchat/Tertulia, an opportunity to find an international pen pal and get to know speakers of different languages in your community.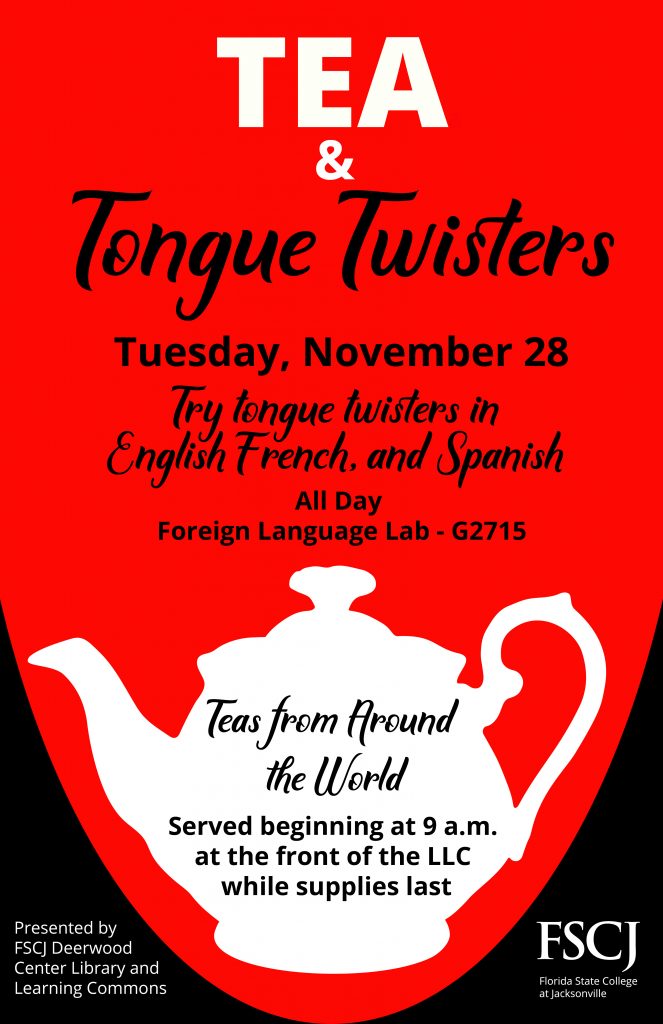 Finally, if you're worn out by the semester and the LLC's whirlwind of activity, you can visit your campus LLC for Stress Relief Week from November 27-December 1. We'll have refreshments, coloring books, and other relaxing activities. From 1-2 p.m. on November 28 at Cecil Center, Certified Shamatha Meditation Instructor Michael Turnquist will offer a stress relief workshop focusing on the practice of Tranquility Meditation, an ancient meditation method practiced originally throughout India and Central Asia. This meditation practice is designed to create a state of peace, without creating an altered state of consciousness nor a state of mental chloroform. It is principally designed to bring awareness into the present moment and does not require the practitioner to accept or reject any specific philosophical belief. Currently practiced in the United States by well over 300,000 practitioners, this meditation technique calms the mind while, co-emergently, creating a clear state of awareness. This practice is an excellent stress reliever and effective in focusing the mind, allowing the individual to focus one-pointedly on any topic. A great method for help with school work and on- the- job activities! As a bonus: tea and cookies will also be served.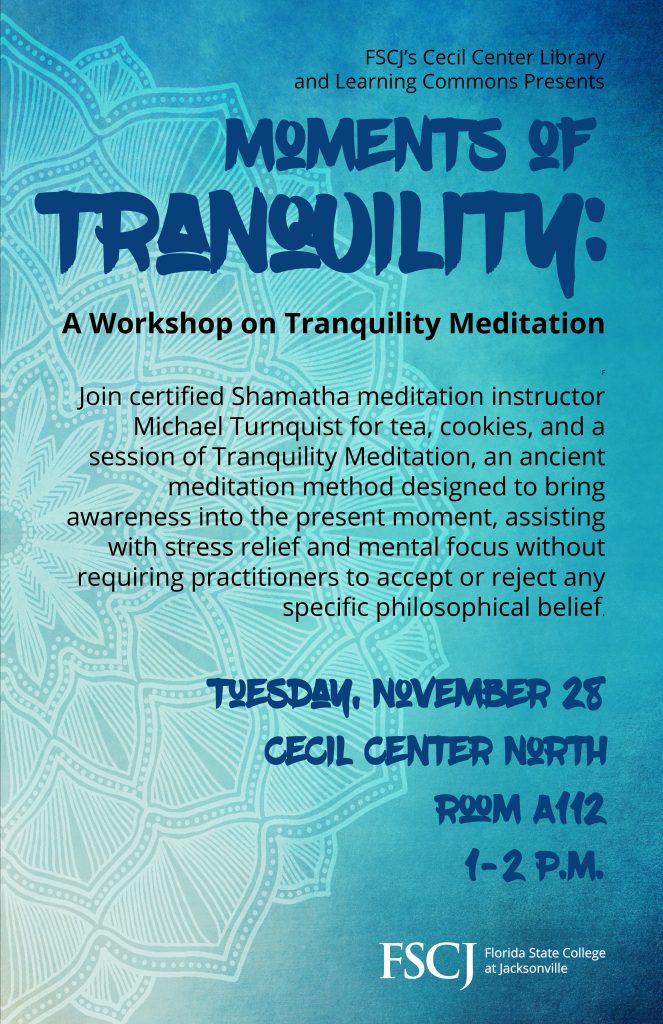 That's it for November. Until next month, we'll see you in the stacks!