Just like you, the LLC spends August gearing up for the Fall term – and then in a whirlwind of activity, as we celebrate Welcome Week with a smorgasbord of activities.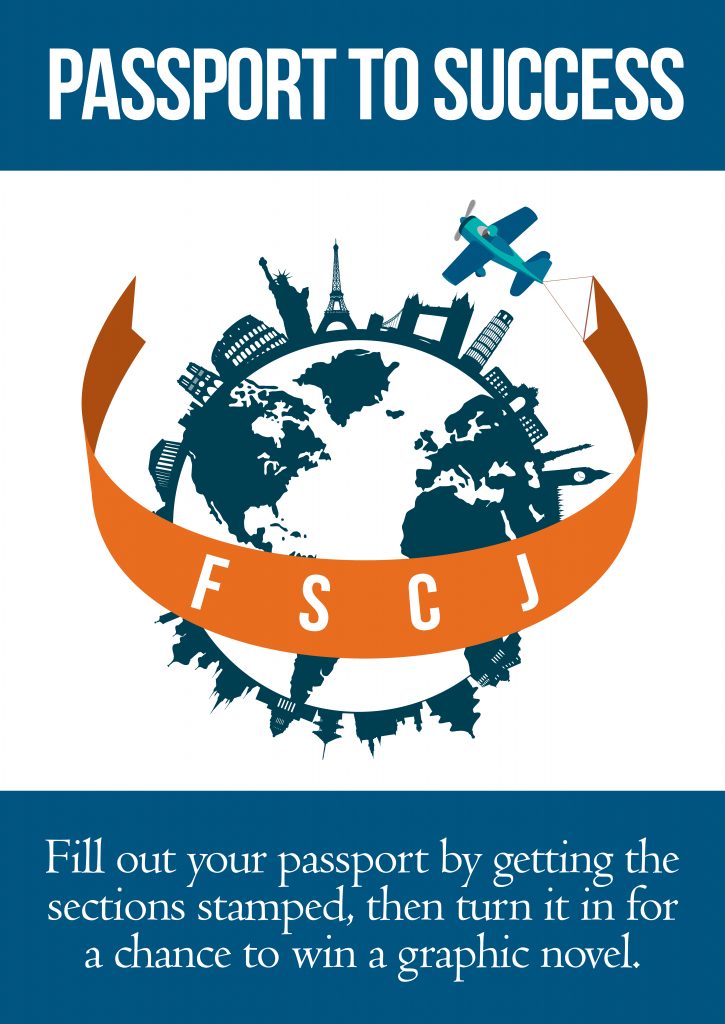 First, Monday through Thursday all day students can visit each campus LLC to pick up their Passport to Success and take a tour of our services and resources. Once they've had every stop on their passport stamped by an LLC staff member, they can turn in their Passport to enters student into a drawing for a graphic novel or manga collection. Here's what we're drawing for at each campus:
Cecil Center: Legend of Zelda Box Set
Deerwood Center: Sandman
Downtown Campus: Ms. Marvel Omnibus Vol 1
Kent Campus: The Dark Tower
Nassau Center: Scott Pilgrim Precious Little Box Set
North Campus: Locke and Key
South Campus: Saga
As a bonus, students who complete the activity Monday 8/28 between 10 a.m. and 2 p.m. can Spin to Win when they hand in their Passport and pick up a cool pair of shades or a frisbee.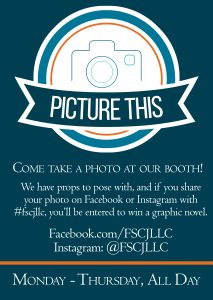 Photogenic students can double their chances of winning a graphic novel by taking a selfie at our photobooths Monday through Thursday and posting it to either Facebook or Instagram with the hashtag #FSCJLLC and then following our new Instagram account. We'll repost or regram our favorite photos.
From 10 a.m. to 2 p.m. Monday through Thursday, we'll also have tables up with information on LLC services and resources, including our anatomical models (plastic, not people), which you can try your hand at disassembling and reassembling. Thursday we'll have a table all day where students can practice paper crafts. And we haven't even mentioned our musical interludes: Jazz it Up, featuring jazz guitar performances from Michael Turnquist and Al Murr at Kent Monday, 8/28 from 12 p.m. to 1 p.m. and Cano on Piano from 10 a.m. to 10:30 a.m. at Deerwood on Tuesday, 8/29.
Whew. We did mention it was a whirlwind.
In the calm before that storm of activity, we're taking some time to reflect on some of the people we're proud of in the LLCs:
Dr. Kathleen Ciez-Volz, Associate Provost of Curriculum and Instruction, was selected for the Administrative and Professional Collaborative Exceptional Service and Initiative Award.
Tom Messner, Executive Dean of the Library and Learning Commons, was elected to serve as the 2017-18 Chair-Elect for the Members Council on Library Services (MCLS) of the Florida Academic Libraries Services Cooperative (FALSC).
Youlanda Henry, the Director of Tutoring Services, was elected to serve as the Vice-President of the Florida College Learning Center Association (FCLCA) for the 2017-2018 academic year.  She will serve as President for 2018-2019 academic year.
Susan Mythen, South Campus Librarian, was named the Association of College & Research Libraries (ACRL) Member of the Week in April 2017.
Esteban Cano, Deerwood Center Academic Tutor for Spanish, received a Career Employees' Council Recognition of Excellence Award.
We're also celebrating some new faces who joined us over the summer. The Nassau Center LLC welcomed new Library Assistant I  Miranda Minton (pictured below), who came to them from the Deerwood Assessment and Certification Center where she'd been working as a Test Proctor, as well as peer math and writing tutor Kelly Kaiser. North Campus welcomed math tutor Richfield Quist, nursing tutor Christina Jacques, and computer support representative Thomas Elledge. Downtown welcomed new writing tutor Melody Gamber. Deerwood Center and South Campus welcomed some part time librarians:  Amber Mottram (DWC), Alex Goodman (STH), and Kristin Davis (STH).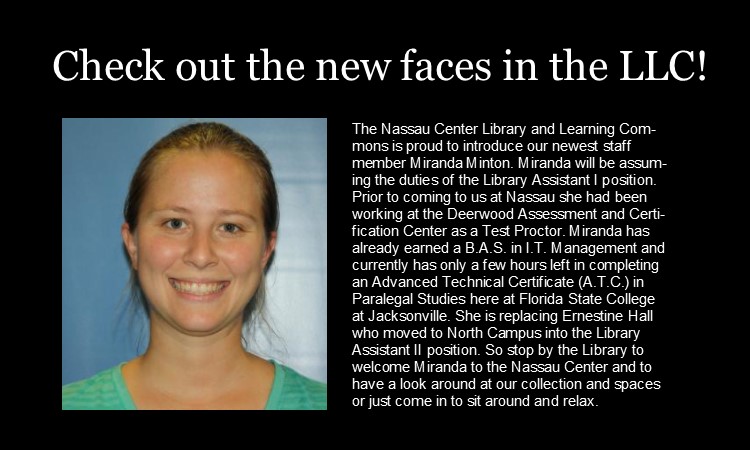 Though it may seem like we're already full up on fun, rest assured we've got much more planned for September. But until next month, we'll see you in the stacks!