For us, April is all about the Poetry.
This month we celebrate National Poetry Month, which means that each day we'll be featuring a new poem both on our Facebook page and on a whiteboard immediately outside the front door of A2102 (for all of your drive-by poetry needs). In addition, we'll be sharing interesting tidbits about poetry, including features on poems, poets, and the unexpected places poetry makes itself known.
We're also collecting submissions from students, faculty, and staff of their favorite poems. If you submit, not only will we illustrate and feature your poem, we'll enter you to win a $25 Amazon.com gift card! Submissions are due by 4/23.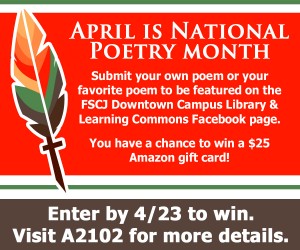 As part of our submission process, we've visited a few classrooms and recorded students reading their favorite poems (or song lyrics, which count, too). You can check those out on our Facebook page, or by visiting our SoundCloud.
In other news, our FSCJ Urban Garden Club event with Donald Justice went fabulously. Also, you've still got a couple of days to get in your submissions for National Library Week (see below post in March for details).
We expect May to be a little bit of a slow month here in the Library, but we've got some plans for June and July that we think you'll really love.
Until then, hope to see you in the stacks!