June is all about new things for us. Mostly that means new books and DVDs, but in this case it also means new events – in particular our The Fedora is a Lie: What the Indiana Jones Movies Got Right (and Wrong) About the Study of Archaeology, which is coming up next week!
UNF's Dr. Keith Ashley will join us at 6:00pm on Tuesday, June 16th in A1058 for a presentation on the finer points of how not to be an archaeologist (as demonstrated by the unforgettable Dr. Jones), followed by a screening of Raiders of the Lost Ark. Seating will start at 5:30pm, so be sure to arrive early and get your seat. If you can't make it, don't worry – we'll be hosting the best in archaeological facts and trivia all month long on our Facebook page.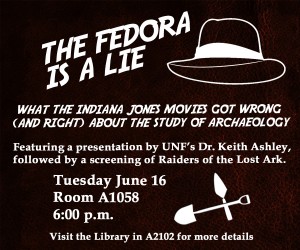 If excavating isn't your thing, then we suggest you hang on until July, when the Library will celebrate Shark Week and the publication of Go Tell a Watchman, the sequel to Harper Lee's To Kill a Mockingbird.
See you on the 16th – and, as always – in the stacks!