April is the coolest month, as it's when we get to celebrate National Poetry Month. This year we're going all-out, with a variety of events, as well as a chance for you to have your favorite poem (or an original work) featured on the LLC Facebook page. Just submit your poem of choice to downtowncampuslibrary@fscj.edu by 4/28, and we'll illustrate it and post it online. If you submit your poem at Deerwood's LLC on Thursday, 4/27 for Poem in Your Pocket Day you'll also be entered to win a poetry month poster.
If sharing online isn't enough, feel free to come speak your word at either or both of our events this month. On Wednesday, 4/12 South Campus will be hosting a spoken word event to help celebrate the winners of the Just Imagine Poetry Contest, and then on Thursday, April 20th, you can participate at a slam at the Downtown Campus emceed by adjunct Marq Mervin.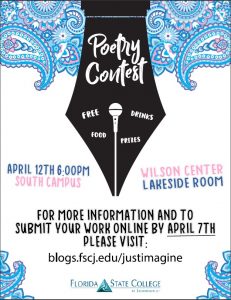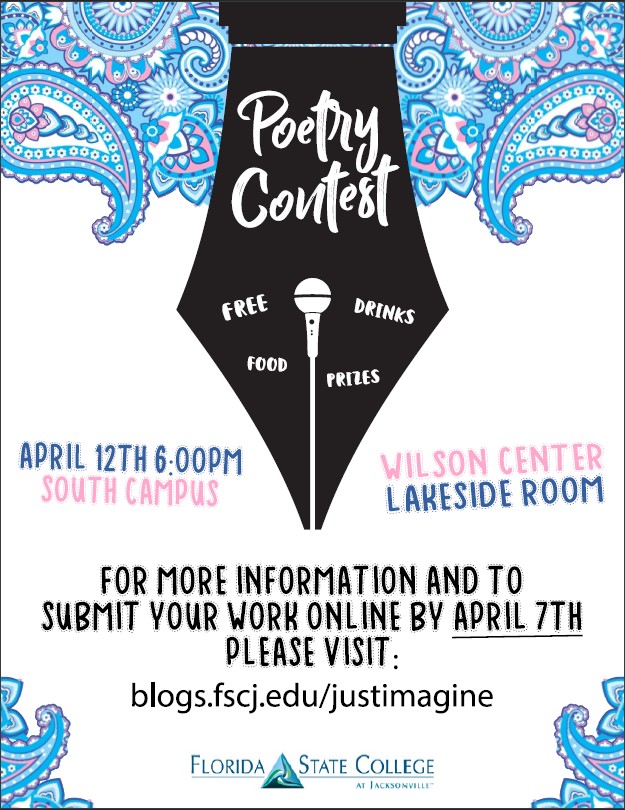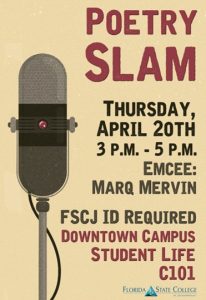 If you're looking for something a little more resistance, join Rawlslyn Francis and Heidi Marshall for Alice Walker: Poetry and Protest, at South Campus on Tuesday, 4/18.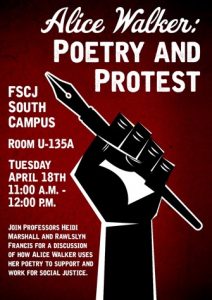 If just the idea of poetry exhausts you, you're also in luck: Stress Relief Week is April 24th-29th. The Downtown Campus LLC will offer mini-massages from 10:00am-2:00pm on 4/25, and coffee breaks from 9:30-10:30am and 4:30-5:30pm. Check with your local campus LLC to see what they might have on the schedule to help ease your finals stress.
Amidst the whirlwind, don't forget that National Library Week is also this month. If you happen to be a faculty or staff member Downtown, you're welcome to join the Downtown Campus LLC in celebrating on Tuesday, April 11th, from 11am-1pm in A2102Q. Come talk to us about the services we offer, and the services you might like us to offer, and enjoy cake and a chance at door prizes.
Finally, if you noticed an awful lot of people in the Downtown and Deerwood LLCs on April 6th and 7th, that's because we were hosting the 4th Annual College Learning Center Association Conference. More than 100 participants from Florida's colleges and universities attended the conference, which took as its theme "Reaching for the Stars:  Helping Students Discover their Dreams by Delivering Excellence in Academic Support."
In May we'll be slowing things down a bit for the start of summer, but keep an eye on our Facebook page just in case we plan any late-breaking shenanigans. Until then, we'll see you in the stacks!